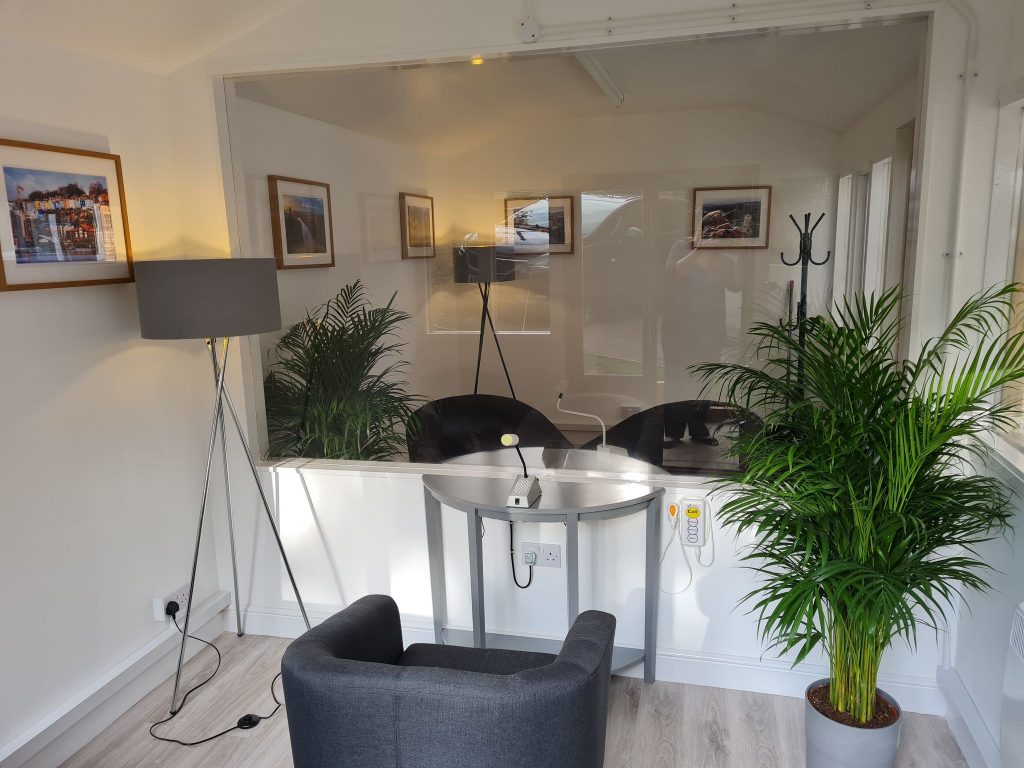 Tuesday 20th October 2020
Update from Chair
Dear Relatives,
Firstly, you will have heard from Caroline yesterday that we have had a member of staff test positive for Covid-19.  She has outlined the actions we have taken so I don't want to go through that again.  However, we discussed it as a Board today and wanted to emphasise a couple of things:
Firstly, this appears to have been contracted outside the home and it was a night member of staff.  So without being in any way complacent it is relatively low risk.
Secondly, the response from Caroline and staff has been great with all the appropriate actions taken according to and beyond guidelines.
Thirdly, as schools go back and the UK opens up it was probably inevitable that staff would be exposed: they do have to live in the outside world.   Our staff, I know, continue to be cautious inside and outside work and I know that they will feel devastated that they have exposed the home to the risk but they really should not feel guilty.
This is likely to reoccur at some point – it is really important not to get complacent and make sure the robust measures we have put in place we continue to do every time we get a case.    The only way to keep everyone safe is to be on top of this.
Re-testing is happening today and we will of course keep you all up to date with what's happening as soon as we know.
On another note, and I'm afraid more bad news, another of our residents, Janet Lynch, sadly died last week (not Covid related). I'm sure you will join us in passing on condolences to the family.
Hopefully I can give a more positive update next week!
Tim Wye
Chair
Wednesday 23rd September 2020 Dear Relatives, We met as a board yesterday and as we always do, we reflected on our policies.   As you will be aware, things are very much up in the air as we wait and see if a 'second spike' hits. Government winter plans for care homes have also come out which indicate tighter visiting policies such as underlying that staff need to be present during visits. So, it is very much a wait and see position this week.   We are due another relative zoom call next week Tuesday 29th September 2020 at 2pm and I very much hope you can attend that. Details of the zoom meeting will be sent soon. On a positive note, the garden house is nearly ready so we hope that we will be able to offer that for visits very soon. The other thing we discussed yesterday is there are a few residents who have not had any visits since lockdown started.   We know this is because often their relatives are older and self-isolating themselves and are not able to visit.  We hope that the garden house may provide a safer option of visiting for some people.  In addition, we would remind people that we have improved the wi-fi and staff are happy to facilitate video calls for relatives who live further away.  We would also like to look for volunteers to befriend some of our residents who are not able to have visitors. As previously mentioned, there are also systems on the market that are simple to use which relatives can set up (e.g. https://www.myhomehelper.co.uk/home/home.aspx) please speak to Natalie Agir one of our Administrators should you have any questions regarding Wi-Fi Hope you are all well Best Wishes Tim Wye Chair of the Board of Trustees Monday 14th September 2020 Dear relative, Thank you to those who were able to make the relatives meeting last week.  It was great to hear from all of you.  Whilst there were different views I think we are all united in wanting to do the best for residents and that we all realise how difficult that debate is between keeping people safe from COVID and maintaining positive well-being. We made a recording of the meeting so please ask Karen for it if you would like to see it (I'm not going to put it out for anyone to look at on the website)  However, if you don't want to look at that my summary is as follows:
Thanks to all the staff for their continued hard work.  That's appreciated.  If you want to send in any notes to that effect that always helps too!  They all go on staff room noticeboard.
I outlined how the Board continues to look at relaxing/ tightening visiting policies and it's useful to speak to relatives about that.  There are 4 key parties whose interests all need to be taken into account: Residents and their relatives, our staff and the Board of Trustees.
There was some nervousness about opening up visiting more although acceptance that some individual residents may have unique needs we need to look at with regards to visiting (e.g. the guidance already clearly says we should allow visiting for people who are terminally ill)
Some suggestions were made that the Board will look at (i.e. can relatives take residents to the park across the road and could car trips be organised to give a change of scene, could some weekend visits be facilitated)
There was some reflection on the individual needs of residents and a commitment from the Board to review those individual care plan discussions we held before, to include a risk assessment of each resident's risk to their well-being vs risk of bringing COVID into the home.
A discussion of some of the consequences of getting COVID in a care home from the perspective of the viability of the business (e.g. litigation, loss of income) which the Board has to consider.
Caroline confirmed the current position on medical appointments that relatives do not have to isolate after them but we ask relatives to honestly inform us in any breach they observed in PPE/ Infection protocols.
We need close monitoring of the current Bristol infection rate over the next couple of weeks, particularly with students returning to Bristol from all over the country.
We agreed to hold another relatives' zoom meeting at 2pm on Tuesday 29th September when we will hopefully have three bits of information: The garden house will be running; we will know if we have a 'student spike' in Bristol, and we will have carried out individual care plan reviews and risk assessments.  Hope you can make it.
In other news….
We have 2 new staff members starting which may help facilitate expansion of visits as discussed at meeting.
We have finished our work on improving the wifi.  If people want to look at purchasing one of the systems I have spoken about before or if resident can use a tablet (as some do) then we can look at that and how we support it.  Please ask for further details – Natalie from the Admin team is your first port of call.
And finally a plea for visitors to only turn up at their allotted time as we have had a few issues with bottlenecks at the front gate as people leave and others arrive early for visits.
Thanks again Tim Wye Chairperson Friday 28th August 2020 Dear all. Apologies for delay but there really is nothing much to report.   We have had a letter from the Director of Public Health advising that rates in Bristol are rising and we should factor that into our plans.   This basically means no change to visiting etc. The only other thing to report is a slight delay on the roof for the new summer house. Oh and a date for your diary is that we will be holding the residents zoom meeting as discussed at AGM at 2pm on Tuesday 8th September. Best wishes Tim 6th August 2020 Update  Dear all Pretty much good news this week.
Firstly, the garden house is progressing well.  The difficult bit of the foundations has been done and the rest is being built on site and will just appear at some point.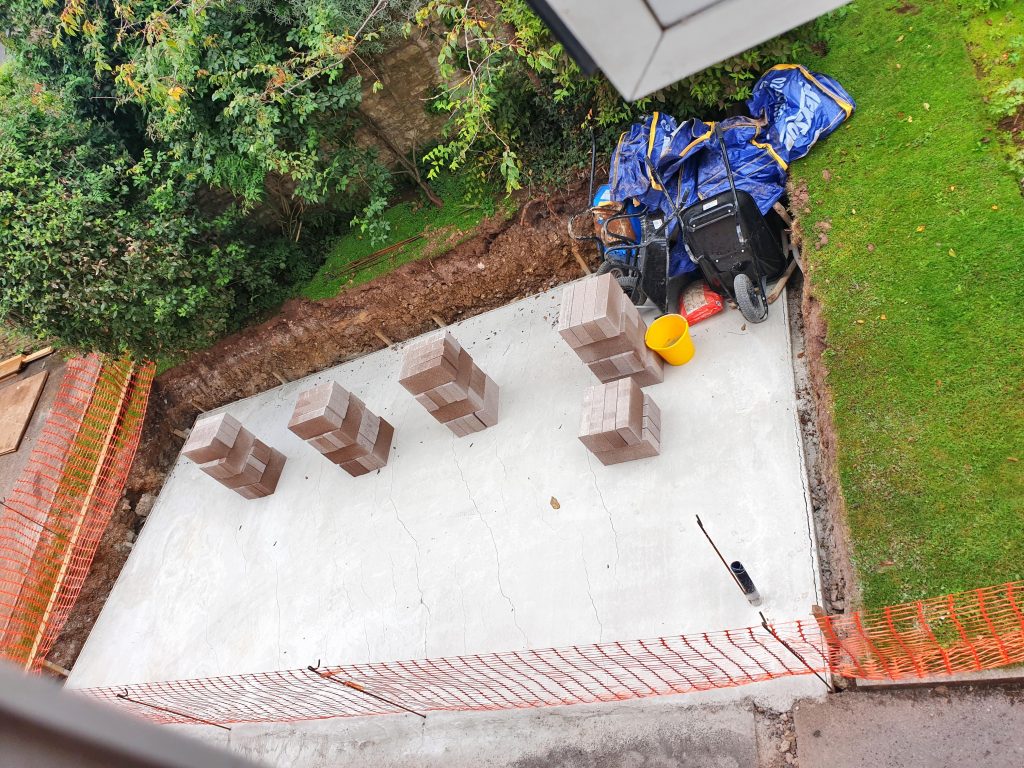 Recruitment is going well and we are going to have new staff starting in the next couple of weeks.   That's really good news
Whilst we are on staffing,  we cancelled leave at the beginning of Covid but we are now encouraging staff to take some well earned breaks.  I'm sure you will agree they deserve it.   I just wanted to note that with the garden visits, the extra covid precautions and taking residents for walks, they are quite stretched.   Caroline may have to juggle some priorities to ensure staffing so you may find she has to cancel some things to allow staff to go on annual leave.  Please bear with us on that.
More good news is we have got an IT expert in to look at improving the WIFI and it looks doable.  We hope this will allow internet in the all the rooms fairly shortly.  This will greatly help improve the ways you can communicate with residents.   I know their are levels of ability but there are systems out there specifically designed for (eg ) people with dementia .  For example have a look at this https://www.myhomehelper.co.uk/home/home.aspx?gclid=CjwKCAjwsan5BRAOEiwALzomX_kvkhKOT2vZ7B5EHM-C9cLr4zT75qpqPOCO6-efAsRUbwdP1Jx6QBoCSUwQAvD_BwE

(nb this is not a recommendation by us, just an example and most of these do come with some contract fees but may be a solution)

Visiting is still going ahead unchanged despite the R value being reported for the South West as 0.8-1.1.  We did say we would stop visiting if the R rate went towards 1.  As there is a bit of variation and we believe Bristol is still low in the South West and everyone seems to be adhering to the restrictions well we have decided not to halt visits.  But just to make you aware we are hovering around that 1 mark and we may ask you to take additional precautions or even stop visits.  Hope not.   Caroline will discuss with me and announce it if it comes to that.
Finally,  care homes are in the process of having our visiting procedures audited by local Public Health.  We will make you aware if we need to make any changes.  One thing to note , and I am not sure we have made it explicit, is that by visiting we take your details and you are included in the track and trace database.  So if we find you have been in contact with a staff member or resident that contracts Covid we will pass on your details to track and trace and you may be asked to self isolate.   This is no different to going into a bar or restaurant who all should be doing this.
No Board Meeting next week so no update (I'm not here either) but if there is anything drastic one of the other Trustees will put something out. Best Wishes Tim 24th July 2020 Update on Guidance Dear Relative, We had a full board meeting last night rather than our normal Covid Tuesday meeting.  We tried to stay on more strategic issues rather than Covid so a full update will resume next week.  However, importantly some of you may have seen new guidance about visiting inside care homes this week.  There are a couple of key things to note.
Firstly, the Local Director of Public Health has to give permission based on local conditions so we can't do anything yet.
Secondly,  It is only guidelines and we will continue to take local decisions on visiting based on the risks as we see them as an organisation.   We always take a sense check of what other providers are doing locally as well.  Remember, we are in this position of being Covid free because we resisted pressure to follow guidance early on.
Thirdly, we would need to work out how we could manage it (eg it probably requires a deep clean after visits, requires staff to manage visitors, thinking about how many visitors any one time etc.  When we look at it it may not offer much more than alternatives we are currently doing and planning and we probably cant manage both)
Finally, the construction of the garden house has started and I would really like to see how this works before fully opening up the home. So this is very much watch this space but I just wanted to be clear that just because this guidance has come out we are not going to be in a position to open up the home tomorrow.  We are as desperate as anyone to reopen the home 'as normal' but we need to do so safely and frankly guidance has proved unhelpful in the past. Here is the guidance if you have not seen it.   It still has restrictions like very brief meetings. https://www.gov.uk/government/publications/visiting-care-homes-during-coronavirus/update-on-policies-for-visiting-arrangements-in-care-homes Tim Wye Chairperson
14th July 2020 COVID-19 update Dear Relative, Really not much to report this week but we are slowly changing some things as we try and juggle the COVID-19 risk versus mental well-being.
We are carrying on with care reviews for particularly vulnerable residents as well as updating care plans more generally, especially well-being
Our walks with staff have started which seem to have gone down very well
Some people have told us that the screen in the garden is causing some trouble around hearing so we are going to try some things this week and will feed back
Now testing for staff and residents has been reinstated we have also agreed to reduce the standard 2 weeks quarantine for residents attending outpatient appointments to 7 days if those visits are well managed (obviously only if their test comes back clear)
We are looking to see how much it would cost to improve the Wifi, allowing more connectivity in residents' own rooms, as video calling has gone down well (there is IT equipment that is easy to use but more on that later)
We have also extended our 'COVID-19 bonus' for staff in recognition of their additional duties and risks
So that is about it.  We are, as previously discussed, open to 'low risk admissions' but demand has gone down at the moment.
Hope you are all well.
Tim Wye
Chairperson
9th July 2020 COVID-19 Update Dear relatives.
A few things to update with this week, but can I just start by venting a little? Despite what our prime Minister says, I do not think that we should be holding care homes responsible for the outbreaks of C19 in care homes. The guidance was (and frankly still is) confused and ambiguous. The advice at the start was we should be taking patients from hospital without testing. I say no more. Sorry about that, not trying to be political, just defending our very hard pressed sector and dedicated workers. Moving forward, we have made a few changes as a board with the easement of lock down. Firstly and perhaps most significantly in Landsdown and Kirwin Houses. We are just the landlord and have very few 'rights' about locking down the flats. Now things have relaxed tenants can make their own decisions about visitors within current guidance but we have urged people to be sympathetic to everyone's views. With regard to Avenue House, we have also made a few changes. Firstly: We are pushing ahead with the summer house idea and our helpful builder reckons he can get it up in 4 weeks. That is really good news and helps future proof visiting into the autumn should that still be needed. Secondly: We have increased the number of visitors in the garden to two people and a toddler / baby (from same household). Thirdly, Caroline has started to meet with relatives of people who we feel are particularly isolated. I sat in on one meeting and it seemed really productive. If you have any concerns regarding your relatives welfare please feel free to contact Caroline and a virtual meeting can be set up. We are also aware that some of our residents with less needs are finding it difficult as well and we are looking at ways to expand our offering to them. So from next week staff will be taking some relatives out for walks in the local areas (with all the expected precautions) We are also exploring improving our wifi to allow more 'virtual' visiting but we need to get some technical advice on the possibilities. Our staffing level is still good but we currently have one vacancy and a couple of staff off sick (not Covid related) We are having to use an agency member of staff but have agreed that the person who will be coming to Avenue House will be solely ours to reduce risks and they will also be properly briefed on all our current control measures. I just think its best to let you know. If you do know anyone interested in working in care, let Caroline know As always, take care Tim
30th June 2020
COVID-19 update
Dear all, Firstly, thanks to all who came to the AGM and the subsequent meeting about COVID-19.   Just an update from some of the actions:
We have agreed to hold another relatives Zoom meeting in early August and make this a regular event (not just about COVID-19) as I think it was very helpful.  Date TBC.
Cath Read, daughter of one of our residents, is setting up a relatives' support group via WhatApp.  Details were sent out yesterday, but if you missed it and would like to join, please contact the office for her telephone number.
There were a couple of specific questions:

Firstly was could you bring a baby/ toddler in a pushchair on the visits to residents if they were in the same 'bubble'?  The answer to that is 'Yes' but obviously same rules and social distancing applies.  Please ensure the child stays in the pushchair for the duration of the visit.
Secondly, there was a question about quarantining after an outpatient appointment.   We discussed this at length and again it's about weighing up mental wellbeing against risk of bringing COVID-19 into the home.  We described situations and guarantees that would need to be in place to shorten any quarantines and we will pick these up in individual discussions we are beginning to hold with relatives as it is very personal.
Apart from that, everything remains the same as my update last week.  We are awaiting guidelines on how the new easements apply to Care homes but until we have received that we are not proposing any changes.  Hopefully the guidelines will give us all a better idea of what is , and is not, allowed going forward in the longer term. Thanks all for your support and bearing with us at this time. Tim Wye Chair
25th June 2020
Following the AGM today held via Zoom today some COVID-specific questions were asked.
Please find the minutes here
24th June 2020
COVID-19 update
Dear all,
Firstly,  things seem to be stabilising.  Infection rates are going down for the South West and Southmead Hospital are reported to have no ITU COVID-19 cases and only two people testing positive in the hospital.   I am pleased we have been able to resume visits to relatives and hope we will be able to keep this going as this trend maintains.   We have also agreed that we can now manage two visitors at the same time (as long as they are in the same 'bubble' as we cant ensure 1+meter rules between visitors).  So we hope that helps.
We have also been talking about admissions.  We are not in financial trouble but are also conscious of our charitable aims about providing support to older people.     As you know, we already decided to take admissions from the community but the truth is that most people come into a care home from hospital.  As a Board, we therefore want to take 1 or 2 admissions from hospital under a strictly risk-assessed basis (for example they will need to be able to comply with quarantining in Avenue House, will have full testing before, etc).  With cases in hospital low this seems like a good chance to do this before infection rates pick up.  I really don't want to be in a position in November where our resident numbers fall to a point where we have to take people financially at a time when we might have a second wave.  If this causes any great concern then please discuss it with us.  Caroline will be raising with residents as well.
A couple of relatives have also rightly raised the issue of how we manage residents in the longer term now it is clear COVID-19 is going to be with us for a while.   This is a fair question, especially as one resident put it succinctly the other day "As the outside world opens up we seem to be more shut down".  It is a real balance between COVID-19 risk and well-being as well as different residents' and relatives' attitudes to risk, all of which we are trying to balance and manage. It may come to a point when we can, for example, let visitors inside Avenue House in a managed way – we are just holding out a bit as if each resident has say 4 people who want to visit that's 100 different contact points coming into the home.   We are awaiting clear guidance on this and will scrutinise that when it comes out but also considering, as we have done before, what is best for your relatives (e.g. guidance before was not to lock down which we ignored which turned out to be the right decision!).
Having said that we are looking at long term plans.  We have someone coming in to quote for a garden house where visits can still go on as weather terms.  Staff are also identifying residents that may be particularly isolated and reviewing this with relatives for longer term management during this period.
As always, ideas and views welcome.  We have the AGM via Zoom on Thursday – the link to the meeting is at the bottom of this email and on the AGM page of our website.  Caroline and I will stay on the line afterwards if you have any particular COVID-19 related questions but separate to the AGM.
Take care everyone
Tim Wye
Chair
Topic: AH AGM
Time: Jun 25, 2020 02:00 PM London
Join Zoom Meeting
https://us02web.zoom.us/j/86127033830?pwd=UUE5UWtnTXpuRUsxMkh1K3NNSU5tdz09
Meeting ID: 861 2703 3830
Password: 701434
19th June 2020
Visiting
Hello all,
With the weather set to improve again from tomorrow, and the R number for the SouthWest falling, we are very pleased to tell you that we will be reinstating socially distanced garden visits at Avenue House again from Monday 22nd June.
The arrangements will be as before, with a few small changes:
Visiting times will be between 10:30am – 12:30pm and 2:30pm – 4:30pm, Monday – Friday only.  We have less staff at weekends making facilitating visits much more challenging.
Visiting slots will last 30 minutes
1 visitor per resident (this can be a different person on different visits, but not more than one per visit)
Please book a visiting slot by telephoning Avenue House on 0117 989 2020 – unfortunately we will not be dealing with bookings via email
Visits will take place in the side garden (overlooking Redland Park)
Please enter the garden by coming through the front gate and walking straight down the side path to the right (please do not come in via the driveway)
Exit will be the same way you came in
A gazebo will be put up in the garden which will shelter 2 tables separated by a perspex screen, to ensure 2 meter distancing
A staff member will discreetly ensure social distancing is maintained at all times
Once you have left, a staff member will be available to assist the resident back into Avenue House
The visiting area will be thoroughly cleaned between visits
Please ensure you do not visit Avenue House if you are displaying any symptoms of COVID-19
With these arrangements we have the capacity to facilitate 5 visits per day, a total of 25 per week.  This should enable all residents to have at least one visit per week.
Thank you for your patience and understanding over the past weeks – we are really pleased to be able to welcome you back, even in this limited capacity.
With best wishes,
Caroline Cooper
Manager
18th June 2020
COVID-19 update
Dear all, Just a brief update. We are continuing to have no visits this week (in any case the torrential rain may have made this difficult) but will review next week. At our Board meeting we discussed how we now need to plan for the long term.   For example, we are currently investigating a more permanent structure for visiting that will work when the weather gets colder.  We have a couple of ideas but forgive me whilst I don't go into more detail until we have got some costs and practical issues looked at. We have a resident leaving soon (for positive reasons) which will bring our numbers down to 24.  As discussed before, we need to be mindful of our income and whilst that is by no means a disaster we are, as discussed before, going to be more actively seeking new residents form the community where we believe the risk can be managed.  We are not going to be taking from hospitals at the moment. That's about it.  Don't forget the AGM next Thursday 25th June at 2pm.  The Zoom link will be posted to the website http://79.170.44.118/friendshousingbristol.org.uk/agm-2020/  early next week. Hope to see some of you in the virtual world! Regards Tim Wye Chairperson
10th June 2020
COVID-19 update
Dear all, It seems like we are strangely getting used to living with COVID-19.   It is clear that we will be living with it for some time and we have to adjust how we manage on a day to day basis. So this week you will all have been disappointed that we have stopped visiting again.   Hopefully, you will appreciate why as the infection rate is creeping up.   But I think this is going to be a pattern and we will lock down and open up at different times, reacting to the infection and its spread. The Board and management will continue to look at  managing infection risk and balancing that against well-being of residents and relatives and hopefully we can make sure we can keep visits going at least periodically. Apart from that, we continue to be COVID-19 free and are managing with various aspects like staffing and PPE pretty well. On a different note, we will be holding our Annual General Meeting a little differently this year, moving online and holding this via the video conferencing porgramme Zoom.  This will take place with our shareholders on Thursday 25th June at 2pm, and residents and relatives are welcome to observe.  If you would like to join, please visit the AGM page of our website (http://79.170.44.118/friendshousingbristol.org.uk/agm-2020/) where the relevant papers can be found. Closer to the date of the meeting, the Zoom link will also be added. So quite a brief message this week.  As always i hope you are all doing well. Tim Wye Chairperson
05.06.20 – VISITING SUSPENDED
Hello everyone,
I am sure you will have seen the news that the R number for the South West of England has risen to 1.  Following on from Tim's update this week, where the automatic cut off for visits was set at an R number of 0.95, this unfortunately means that Avenue House is back in lockdown and all visits are suspended with immediate effect.
This is incredibly disappointing I know, but as always our priority is keeping our residents and staff safe.  We will of course keep this under constant review, and hope it won't be long until we can restart visits.
With best wishes,
Caroline Cooper
Manager
3rd June 2020
COVID-19 Update
Dear all, A couple of things to add this week: All staff  & resident tests are now back and are all negative.  This is great news but obviously tests are only good on the day they are done so it's still important we all keep vigilant about hygiene and social distancing. The visiting seems to be going OK.  I went up to look at the set up and whilst I agree that it may look a bit like a prison set up, it seems to work and is the right balance between risk and visiting.  It's a bit harder work on the staff so thanks to them for that too.  Residents are finding it valuable too I think. A couple of points on the visits:
Firstly, we want to make sure that all relatives get the chance to visit so we may have to ration.  If there are free slots that's fine, but please bear with us if you have already had a visit that week and we say sorry, we are holding further slots for others.
Secondly, as a Board we want to make sure that we stop visits if it looks like infection rates are going up.  We have therefore instructed Caroline to stop visits immediately if the much talked about  transmission rate R value goes up to 0.95.  This unfortunately may mean visits are cancelled at short notice.  Apologies for that but I hope you agree with this precaution – it's clear that COVID-19 is going to be with us for some time so it's likely we will need to relax and tighten measures as things go on.
Admissions from hospital are still closed but as mentioned last week we will accept community referrals with appropriate precautions. That's about it.   Hope you are all well. Tim Wye Chair
28th May 2020
Visiting Arrangements
Hello all,
Following on from Tim's update yesterday, I am writing to confirm visiting arrangements for Avenue House as follows, starting on Monday 1st June:
Visiting times will be between 10:30am – 12pm and 2:30pm – 4:30pm, every day
Visiting slots will last 20 minutes
1 visitor per resident (this can be a different person on different visits, but not more than one per visit)
Please book a visiting slot by telephoning Avenue House on 0117 989 2020 – unfortunately we will not be dealing with bookings via email
Visits will take place in the side garden (overlooking Redland Park)
Please enter the garden by coming through the front gate and walking straight down the side path to the right (please do not come in via the driveway)
Exit will be the same way you came in
A gazebo will be put up in the garden which will shelter 2 tables separated by a perspex screen, to ensure 2 meter distancing
A staff member will discreetly ensure social distancing is maintained at all times
Once you have left, a staff member will be available to assist the resident back into Avenue House
Please do not visit if you are displaying any symptoms of COVID-19 whatsoever
We are really pleased to be able to start welcoming visitors to Avenue House again but I am sure you will agree that it is important that we get this absolutely right, and start it very tentatively.  With your support we have done a wonderful job of keeping Avenue House COVID-19 free and we don't want to ruin that now.
We look forward to seeing you very soon!
Best wishes,
Caroline
27.05.20 COVID-19 Update Dear all, I hope this update finds you well.  Lots of positive news this week. Firstly, we have got most results back from testing staff and residents. There are a few that need to be redone as the results were inconclusive but the others are all negative so that is great.   Huge thanks to all for taking infection risks so seriously. We had a long discussion about visiting today.  We, as always, carefully weighed up the pros and cons.   We considered the continuing low infection rates in the South West, test results and other factors and have taken the decision to tentatively allow limited visiting.  We partly want to make use of the good weather which allows us to use the garden which poses far less risk.   So from next Monday we will be encouraging visits, in the garden only.  Please note that no entry to Avenue House will be permitted.    We will limit visitors to one per resident and they will need to be pre booked and time limited.  We will also be setting up an area in the garden which facilitates social distancing.   You will also need to adhere to some rules (like only visiting if you feel fine, entering and leaving site from different directions) – Caroline will be providing more details and how to book your slot by the end of the week.  Staff will also be at hand to facilitate anything and we will keep the situation under very close review.   This all sounds a bit formal but hope you will agree with our baby steps approach to this.     We are aware that some residents may not want visits as they are concerned about risks so we will check this out as well. We remain closed to hospital admissions – we really don't think that the processes regarding hospital discharges are robust enough yet.  As previously discussed, we will consider risk assessed admissions from the community and the expansion of testing allows us to do this with more confidence.  However, the vast majority of all care home admissions come from hospital following some episode like a fall so we really don't expect a mass of people waiting to get in. As always, please feel free to give feedback and thoughts on any of this. With best wishes, Tim Wye Chair 21.05.20 COVID-19 Update Dear All, Really not very much at all to update you with – our position remains exactly the same.  We are closed to visitors and we are not accepting admissions (except if we have someone who really wants to come from the community and we assess them as safe as mentioned last week).  The Board really wants to see the impact on prevalence rates of current relaxation of rules over the next few weeks and have asked staff to be vigilant and extra careful in their home lives as things loosen.  We obviously weigh this up against resident morale but that seems to be holding up.  We have asked a resident to provide some direct feed back to the Board on this at our next Zoom meeting and will continue to weigh up that balance as it is really important. Feedback from relatives and residents seems to support this action but your views and feedback are always very welcome. COVID-19 testing has commenced on all staff and residents where consent is given.  When the results come through Caroline will contact each relative individually with the results. I would also just mention that a tenant did sadly die in Lansdowne House last week.  It was not COVID-19 related and Lansdowne is one of the flats and not related to Avenue House.   I only mention this in case you have heard rumours of another death and thought it might be in Avenue House. Please continue skyping into your relatives, send cards, or whatever. We are more than happy for gifts to be dropped off to the home – we would ask that they are placed in a plastic bag after strict handwashing procedures and left outside the front door.  If you then telephone us to tell us where the parcel is we will pass it onto the resident.  It's important people don't feel abandoned. Take care all. Tim Wye Chair 13.05.20 COVID-19 Update Dear All,
I wanted to start with some positives apart from the main one which is that we remain free of COVID-19 at Avenue House with no cases amongst residents or carer staff. Firstly, we are pleased that we have now been able to order home testing kits. This will allow us to test both staff and residents (with consent) which should give us early warning of anyone with COVID-19 as well as allowing staff who may be off with suspected infection to get back to work quickly. I think it just adds an additional level of security. Caroline will be contacting those of you with Lasting Power of Attorney for consent to test residents but if you can all reiterate the importance of testing that would be great. Secondly, PPE supplies seem to be improving which had been causing us concern so that is another piece of good news. Everything else remains more or less the same. We still are not taking new admissions from hospital. The only change is that if we do get an inquiry from the community where a person has been living alone and practicing self-isolation we may consider that person on a case by case basis. We won't be actively chasing admissions though and the vast majority of admissions happen as a result of some adverse episode like a fall. You will obviously see that the government has announced some loosening of lockdown. We discussed at length whether we should therefore alter our current no visitor rule. It's a careful balance between maintaining residents general and mental wellbeing with the risks of COVID-19. To cut a long story short, we concluded that the risks of increased infection rates created by the current easing of measures are unknown. We have done extremely well at keeping COVID-19 out of Avenue House and we don't want to mess that up now if we get a second wave. Also, resident morale seems to be holding up pretty well. We will keep an eye on the situation and will continue to think how and when we could re-introduce controlled visiting. I hope you understand. I have also filmed a video update for residents, staff and relatives which can be viewed here: 
https://www.youtube.com/watch?v=qbZOgnMdLl0
Stay Safe everyone! Regards Tim Wye
5th May 2020 COVID-19 Update Dear Relative,  Whilst it still all feels a bit strange we do seem to be entering a bit of a routine regarding COVID-19 and Lockdown.  Hence, there is not much to report again in this weekly brief. The key points are that whilst people are beginning to talk about easing lockdown, we are aware that Care Home residents are still at risk and we remain closed to visitors (except for residents who are terminally ill).  We still have not had any cases of COVID-19 amongst staff and we would like to keep it that way. With reducing risk in mind we are still not taking new admissions.  At present we have 5 vacancies which if you multiply your relative's fees gives you an idea of the amount we are losing each month!  At the moment we are in a very fortunate position to have reserves enough to cover this but there may come a point, especially if we have more vacancies, that we will need to take in new residents (I think you will agree the last thing we want to see is Avenue House get into financial problems).  This is not imminent but I thought you should be aware now that this situation is going to remain with us for some time.  We can't remain closed to new residents forever.  We would assure you that we would take all measures necessary to keep people safe and keep you updated. Morale remains good amongst staff and residents.  I had to deliver some masks the other day and I waved at a few residents through the window.  They seemed chirpy! If you follow our Facebook page (https://www.facebook.com/TheWestOfEnglandFriendsHousingSociety/?ref=bookmarks), you will see that our Activities Coordinator Karen and the staff are doing a great job of keeping all of the residents active and entertained – we particularly enjoyed the ping pong videos the other day! There are plans for a street party style supper to celebrate V.E. day later this week, so we look forward to seeing the pictures from that.  A local Dominoes have also offered to deliver some free pizzas to staff and residents tomorrow which is such a kind gesture, and one that will no doubt go down well! Testing is now becoming more available for both staff and residents.  It's still evolving and there still appears to be some capacity issues in the system, but this is good news and allows us to identify anyone who has the virus quickly, and take appropriate action like isolation.  Testing would also be available to any new admissions.  Whilst testing is only good for the day it is done, it does significantly reduce risks. You may hear that we are also doing a few more tests within Avenue House, notably more frequent blood pressures and taking people's oxygen levels.  This will allow us to make better referrals to the GP and hospitals. In other news, the plans for our new conservatory are still progressing, albeit slowly.  We have gone through the pre-application stage and the architect needs to make some minor amendments.   We won't be committing to actual build until we fully understand the implications of COVID-19. So that is about it.  Stay safe and sane!  Tim Wye Chair 28th April 2020 COVID-19 Update Dear Relative, It has only been a few days since my last update on 24th, so I don't have much more to report from today's Board Meeting.  Most things remain the same so all of the information in my last update below is still relevant.  We are still closed to visitors (except if a resident is at the end of life) and we are still not taking on new residents. Just a couple of things to note:
Firstly, you may have the date of our AGM in your diaries, which was originally set for 20th May 2020.  Clearly we are not going to have a physical meeting at Avenue House but we are looking at other ways to hold something.   We will certainly be having some kind of 'end of COVID-19' event as and when we are able.
Secondly, regarding the sad death we had last week – we did not think it was COVID-19 related and having spoken to the Coroner yesterday, Caroline has been informed that, from the police report, they have no concerns that the resident had any symptoms relevant to COVID-19.
Whilst we are on Caroline – she has been allowed back to work at Avenue House and will be there on Mondays, Tuesdays and Fridays until 2:30pm.  She is working from home on other days so can still be contacted at any time.
Finally, I am conscious of the report today about the number of deaths in Care Homes  (https://www.bbc.co.uk/news/health-52455072) This will have likely caused more concern, but it also shows the care sector is getting more help with areas such as PPE.  It also talks about expanding tests to residents – you can help us here by reinforcing the need for testing with residents.  However, it still reminds us how serious this is for our residents and loved ones.   As always, we aim to keep them as safe and well cared for as we can at this time. Best Wishes, Tim Wye Chair 24th April 2020 COVID- 19 Update Dear Relative, As promised, this is the third of my updates from the Board which is meeting every Tuesday (virtually). Apologies for delay, there were a couple of things I was looking to clarify – we have carried out a risk assessment of all the issues and I wanted to do that before this update. It has been good to talk to most relatives over the last week, Caroline or I have spoken to most people now and it's been good to share some views.  Here are answers to what I imagine will be some of your questions: Do any of the residents show signs of infection? No.   We have very sadly had another death in the home this week but it does not appear to be related to COVID-19 (we have not had cause of death yet but there are no signs that the person had the virus.  I will of course update you if this is different) Do any staff have Coronavirus? No.   Staff are being very careful both inside Avenue House and at home. You may also have heard that testing has now been made available to Care Homes so we will be able to get any staff tested who think they may have the virus.  This should provide relatives with some more assurance.  Is Avenue House closed? Avenue House remains closed to all visitors except essential Health Professionals (mainly District Nurses).  We are also only carrying out essential maintenance.  For example, one bathroom needs some repairs but we can manage without it and have decided it can wait to cut down on visitors.  Anyone who does come to the home does so compliant with rules to reduce infection. Visits to people who are dying The guidance from Government has changed on this.   Relatives will now be able to visit if a resident is in the last stages of life (be that for COVID-19 or any other cause).   We welcome this as we know this is important for relatives and residents. There are a few things that you do need to bear in mind which we will discuss in more detail should the situation arise.
 

Firstly, we will need to make sure you wear protective equipment and you understand the basic ideas of infection control. 
 

Secondly, if the resident has COVID-19 you should self-isolate after visiting.   This is 14 days so may mean that you can't attend a funeral. 
Thirdly and most importantly, you should seriously consider not visiting if you, as a relative, have any health conditions or are in an at-risk group.
These are difficult decisions and you need to consider them carefully.  If you decide it is not appropriate to visit, our staff will manage the situation in their normal kind and professional way.  Also, no one is going to make any value judgements around your decision to visit or not. End of Life Planning Caroline and I have spoken to relatives about this.   Just to reiterate, there is a process called ReSPECT forms where residents can tell us what they want to happen at end of life.   We can only go by what is documented so if you want to make any changes or plans, we would encourage you to talk with your loved ones and let us know what their wishes are.   Staff will do everything they can to abide by these wishes  but we would also remind you that medical decisions (including admitting to hospital) are made by the resident's GP, not Avenue House. Do we have enough staff? Yes, we do at the moment. We only have two members of staff who are off because they have been advised to shield as they have health conditions that put them at risk.  We were fortunate to be fully staffed at the time of the outbreak. Staff are being really great at being flexible, swapping shifts, cancelling holidays etc.   We also have some good agency staff who are with us.    Thanks to everyone who has sent good wishes to staff, it helps.   As a Board we value our staff and have decided to take some money out of reserves to give them a pay bonus as a mark of appreciation to the additional risk and difficulty at this time.   Good news is that Caroline is now off the list of people who have to shield so from next week will be in part time at Avenue House. How are we managing infection control within Avenue House? We are setting up a training log to make sure all staff are aware and have undertaken on-line training for managing infection control. The supply of PPE seems to be improving and stock levels are satisfactory Admissions to Avenue House Contrary to Government guidance we are still resisting pressure to take people from hospital even though tests are now available for people being discharged.  We do not feel we want to put residents at risk even though that is significantly reduced with testing. This is of course subject to change. Finally, it is worth remembering that people do recover from this as shown by this story of Connie Titchen who is 106 and recovered from the virus https://www.bbc.co.uk/news/uk-england-birmingham-52296196 Our thoughts remain with you all at this difficult time. Tim Wye Chair of Trustees 14th April 2020 COVID-19 Update Dear Relative, As promised, this is the second of my updates from the Board which is (virtually) meeting every Tuesday. You no doubt will have seen some of the coverage in the news about COVID-19 and care homes and this will have caused you concern. We are doing everything we can to support residents, but this week's news has shown the seriousness of the current situation. I am sorry this update is a bit bleaker. Partly in response to that, this week, Caroline and I are going to make contact with relatives to just provide a personal update and to talk about specific plans you want for your relative at Avenue House and any individual questions you may have. Here are answers to what I imagine will be some of your questions: Do any of the residents show signs of infection? No. However, without being alarmist this is a very infectious disease and we have to face the possibility that, even with the best infection control, it could get into Avenue House. Do any staff have Coronavirus? No. Staff are being very careful both inside Avenue House and at home Is Avenue House closed? Avenue House remains closed to all visitors except essential healthcare professionals (mainly District Nurses). Unfortunately, following advice, we have currently taken the decision that even if a resident is facing the possibility of dying with COVID-19 we still can't let visitors in. This, I know, is an incredibly hard message, but we just do not want to put relatives in the position of catching and spreading the virus. We are seeking Public Health advice on this and will update you if we can relax this. Please remember (whilst it is not a substitute) we have set up opportunities for on-line video calls. Do we have enough staff? Yes, we do at the moment. We were fortunate to be fully staffed at the time of the outbreak. Staff are being really great at being flexible, swapping shifts, cancelling holidays etc. We also have some good agency staff who are with us. Thanks to everyone who has sent good wishes to staff, it helps. As a Board we value our staff and have decided to take some money out of reserves to give them a pay bonus as a mark of appreciation to the additional risk and difficulty at this time. How are we managing infection control within Avenue House? We have enough personal protective equipment (gloves, masks gel etc.) to manage infection control at the moment. We have also got some equipment (e.g. visors) which we need if we were to have an outbreak. We are attempting to source more to prepare for an outbreak situation. Admissions to Avenue House Contrary to government guidance, we are resisting pressure to take people from hospital without testing negative. We hope that testing will be rolled out soon to allow us to take a position on this but at the moment we do not feel we want to put residents at risk. We have had one resident return from hospital (not COVID-19 related) and we think that is fair enough because Avenue House is their home. They will be isolated in their room for 14 days according to guidelines of people who have been in locations which are higher risk. Planning Contingency The Board continues to meet every Tuesday (virtually) to support Caroline and staff in making decisions. I am also in daily contact with Caroline. We have ideas we can put in place like recruiting short term (we already have some possibilities) or working with partner care providers who work in the community but things are OK at the moment. Finally, just to repeat that I realise these are incredibly testing times and I know relatives and residents are missing each other. Our thoughts are with you all at this time, Caroline or I look forward to talking to you in person. Tim Wye Chair of Trustees 6th April 2020 COVID-19 Update Dear Relative, I thought it would be useful if I provided you with a weekly quick update regarding the position of Avenue House in the current Pandemic. This is, of course, not as a replacement to you being able to contact us with any queries at this incredibly hard time. Is Avenue House closed? Avenue House remains closed to all visitors except essential health professionals (mainly District Nurses) Do any of the residents show signs of infection? No. You may have heard from residents that we did sadly have a death in the home this weekend but this was completely unrelated to Coronavirus. Do any staff have Coronavirus? No. We currently have 3 members of staff who are self isolating following public health advice, as a precaution. Staff are being very careful both inside Avenue House and at home. Do we have enough staff? Yes, we do at the moment. We were fortunate to be fully staffed at the time of the outbreak. Staff are being really great at being flexible, swapping shifts, cancelling holidays etc. We also have some good agency staff who are with us. We have had some staff who have self isolated in circumstances that may well not be the virus. Whilst that is the correct thing for them to do, it is frustrating that we can't test our staff so they can return to work. Hopefully, as testing is rolled out, we will be able to access this. Any notes or cards to staff to say thanks are very welcome. How are we managing infection control within Avenue House? We have enough personal protective equipment (gloves, masks, gel etc) to manage infection control. We have also reiterated to residents the need for hand washing and not touching people. In response to a relative suggestion we also looked at social distancing (for example using the lounge as an additional dining room). We tried this but it did prove very hard and residents really did not like it. Avenue House is quite a small home and the only way we can guarantee social distancing is to isolate residents in their rooms. If you are worried about this and the resident agrees (we obviously can't force them) we can facilitate anyone who wants to isolate in their own rooms. If someone shows the slightest symptoms they will of course be isolated. Planning Contingency The Board is meeting every Tuesday (virtually) to support Caroline and staff in making decisions. I am also in daily contact with Caroline. You know that Caroline has been told to shield so is working from home. She is in constant telephone and video contact and is still very much in charge. Beckie (Assistant Manager) has fabulously stepped up as well. It's actually working out pretty well. We have ideas we can put in place like recruiting short term (we already have some possibilities) or working with partner care providers who work in the community, but things are OK at the moment. I hope this is helpful. I realise these are incredibly testing times and I know relatives and residents are missing each other. Our thoughts are with you all at this time Tim Wye Chair of Trustees 24th March 2020 COVID-19 update Hello all,
We hope you are all keeping safe and healthy. Unfortunately Avenue House is now on complete lockdown and is only open to staff and Healthcare Professionals. We really didn't want to have to do this but we are sure you all understand why it's necessary given the fast developments in the Coronavirus pandemic. We know that it is going to be incredibly difficult not seeing your loved ones, so to try to maintain as much contact as possible, we have set up a Skype account for the home. The address has been emailed out to everyone we have email details for – please call if you have not received anything and would like the details. Please let us know if and when you would like to use this and we will ensure that the resident is in the right place and connected! Please also keep an eye on our Facebook page, where we will try to upload as many photos as possible. We have today been informed that our Manager Caroline is on the 'at risk' register, and therefore will be required to self isolate for the next 12 weeks. Fear not though, she will still be actively involved in the day to day management of the home as she is being set up to work from home as far as possible. She will be in constant contact with the staff at Avenue House and is more than happy for any relatives or residents to contact her whenever they like, either by email, phonecall or Whatsapp video call. Again, details have been emailed to everyone today but please do call in if you have not received anything. Thank you so much to everyone that has offered help and support should we need it – we will miss not seeing you all for a while! Stay safe, Avenue House